India archive reveals extent of 'colonial loot' in royal jewellery collection
David Pegg and Manisha Ganguly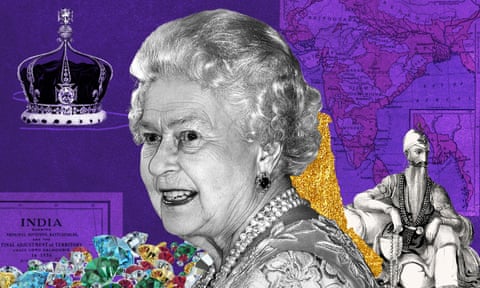 Five years ago, Buckingham Palace marked its summer opening with an exhibition celebrating the then Prince Charles's 70th birthday with a display of his favourite pieces from the royal collection, Britain's official trove of items connected to the monarchy. "The prince had a very, very strong hand in the selection," the senior curator said.
Among the sculptures, paintings and other exhibits was a long gold girdle inlaid with 19 large emeralds once used by an Indian maharajah to decorate his horses. It was a curious choice to put into the exhibition in light of the violent means by which it had come into the hands of the royal family.

As part of its Cost of the crown series, the Guardian has uncovered a remarkable 46-page file in the archives of the India Office, the government department that was responsible for Britain's rule over the Indian subcontinent. It details an investigation, apparently commissioned by Queen Mary, the grandmother of Elizabeth II, into the imperial origins of her jewels.
The report, from 1912, explains how priceless pieces, including Charles's emerald belt, were extracted from India as trophies of conquest and later given to Queen Victoria. The items described are now owned by the monarch as property of the British crown.